Good morning - sun is shining, but still chilly, well chilly for this part of the country.
More flowers to make you smile..........Clementis. Again, more new flowers to add to my wish list.....Hmmm, guess I have seen these before in Wyoming. Yes,Wyoming.....another fantastic state. Sadly though, summers are brief there - planting a garden before Memorial Day is just asking for failure.....oh, Clementis.....a neighbor at the lake grew a clementis vine/flower.....sadly it was mostly vine. I remember her calling me and we would celebrate each new bloom.
These beauties are across the street in my neighbor's yard, in what I call her secret garden.....they are peeking out her white picket fence and just were calling to me to take their picture...........what could I do........I snapped!!!!!
Thank you Miss Tamara for providing me with such a beautiful view. I will miss it when we move.

Yesterday I decided to try and share a blog each day that I post......there are so many blogs out there and so little time to visit them......so here is today's blog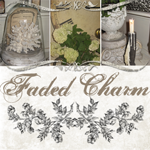 She has a delicious blog, full of wonderful photos, decorating and things that are vintage and aged to perfection. I am definitely going to sign up to be a follower.
Hope you get to share a smile today...........